Why Would You Need Chiropractic Care During Pregnancy?
Pregnancy can bring on physical stress and discomfort. It's common for pregnant women to visit a chiropractor for relief of low back pain, sciatica, leg cramps, and even constipation.
As the baby is growing, a mother's center of gravity usually shifts toward the front of the pelvis, which creates discomfort in the low back and joints. The extra weight that an expecting mother carries can increase the curve of the lower back. This curve often leads to a compressed spine and irritated nerves...and that's when the pain begins to radiate.
Chiropractic adjustments are a safe and effective treatment during pregnancy. At your first visit, one of our chiropractors will sit with you and discuss the best treatment for your discomfort as well as how they can help prepare your body throughout your pregnancy and childbirth.



Benefits of Chiropractic Care During Pregnancy
Less back pain

Reduced need f

or over-the-co

unter medicines
Restoration of proper pelvic alig

nment and balance

Optimal fetal position in the womb
Shorter labor times
Less pain during delivery
"My first pregnancy was pretty miserable and I unwisely didn't seek chiropractic care. When I found out I was pregnant with baby #2, I decided I was going to try to make the experience more enjoyable. I booked an appointment with Dr. Fran as soon as I had my OBGYN's approval and I have not looked back since. Dr. Fran is thorough in her adjustments, listens to her patients, and has made me a firm believer in chiropractic care." -Stephanie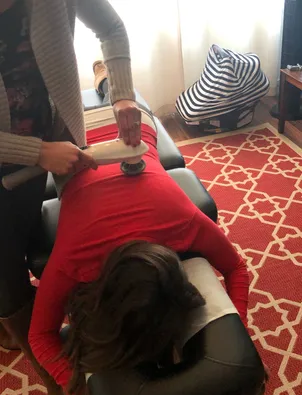 Postpartum Chiropractic Care
For new moms, chiropractic can help in the postpartum healing process by correcting misalignments that occurred during labor and delivery. Adjustments are also essential in correcting posture and relieving back pain resulting from breastfeeding and carrying your newborn. Theralight 360 red light therapy is an innovative therapy that can help with various postpartum pains and expedite your journey to healing!
If you are expecting, currently pregnant, or postpartum, contact Chiropractic Wellness Center in Kansas City, MO! Dr. Hollembaek and the rest of her chiropractic team are here to provide pain relief and a multitude of benefits to all moms in the Kansas City area with prenatal and postnatal chiropractic care. Call or text our office today at (816) 561-7035 to schedule a chiropractic adjustment with one of our chiropractors!